It's no secret that video marketing is the most effective way to reach your target audience on social media. And with the rise of social media platforms like LinkedIn, Facebook, and Instagram, there's no shortage of ways to get your message in front of potential customers.
With so many brands using video in their social media marketing campaigns, it can be tough to stand out. On top of that, users tend to ignore most video ads because they are disruptive to the user experience. This is where user generated content could come in handy as ads coming from people rather than brands helps influence engagement and increase conversions.
However, video marketing remains to be one of the best ways to reach your target audience on social media. Here are a few video marketing statistics to keep in mind:
If you weren't convinced before, we hope that these statistics are enough to get you on board. Now that we know video is an essential part of any social media marketing campaign, let's examine some of the best social media campaigns and the social media tips that can be learned from them.
6 Creative Social Media Campaigns 2022
1. "Justin Guarini as Lil Sweet" in Dr. Pepper Ad
Clocking in at only 6 seconds, this Dr. Pepper ad got a lot of engagement on Facebook. Viewers found the short clip, which features Justin Guarini as Lil Sweet, to be both entertaining and relatable.
Comedy has always been a reliable way to get people to pay attention, and Dr. Pepper hit the nail on the head with this social media advertising. Justin Guarini from American Idol is also a recognizable figure for many people, which helped this ad resonate with viewers.
2. "Lighter Than Air" For The HP Elite Dragonfly
The HP Elite Dragonfly is advertised as the world's lightest business convertible laptop. HP manages to convey this benefit in only six seconds, in an entertaining and clear way. The ad is so direct and concise that users won't even be able to scroll past it before the ad ends. The idea also grabs attention by conveying the benefit in the most unexpected way.
Talk about a strong call to action!
3. "A Children's Play" For Kleenex Ultrasoft
Innocent humor appeals to everyone and is at the heart of this Kleenex ad. Promoting their Ultrasoft brand, the short ad conveys that Kleenex is always there when you need it, in a direct and light-hearted way. This is another example of an ad that uses comedy to get a point across in an engaging way and six seconds is not enough time for most users to even consider skipping it.
4. "WeWork" Ad on Linkedin
A lot of the time on social media channels, simpler is better.
This WeWork ad is as simple as it gets. The 15-second ad features vibrant images of WeWork office spaces along with text that tells us a powerful statistic about their services. The marketers know the LinkedIn audience and managed to create an ad that speaks to their interests, which makes it hard to scroll past if you're the target market.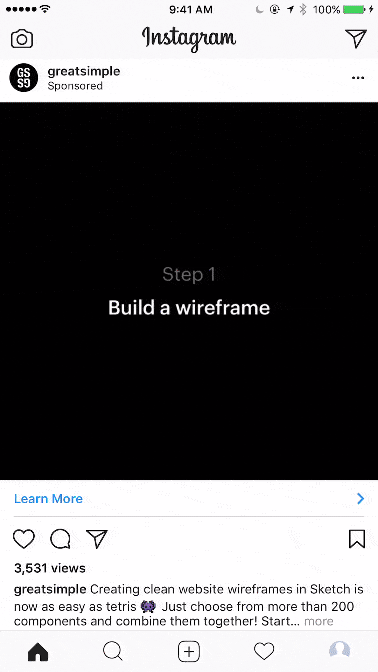 5. "Creating a Wireframe" Ad From Great Simple
Huge productions and dynamic visuals aren't always needed for an ad to be effective. Sometimes all you need is a simple idea and some well-written copy.
This ad from Great Simple is effective because it focuses on a singular benefit – the ability to create a wireframe through their Sketch software. The ad features a quick tutorial on how to create a wireframe which makes the process look extremely easy.
This digital marketing campaign also presents the information in an easily digestible way.
6. "A Free CRM" Ad From HubSpot
This 13-second ad from HubSpot takes a traditional approach to video advertising.
The video concisely presents a problem or pain point that their target audience is facing and then the solution – their free CRM software. The ad isn't flashy or unique but it's effective in grabbing the prospect's attention and delivering vital information to them in a short amount of time.
Work With Jungle Films on your Social Media Campaign